Newspapers
The Lincoln and Douglas Meeting at Galesburg, Illinois, October 7, 1858
The fifth debate between Lincoln and Douglas was held at Galesburg, Illinois, on October 7, 1858. The platform from which they spoke was erected at the east end of Knox College. The students took a lively interest in the contest, decorating the college gayly with flags and streamers. Immediately over the heads of teh speakers, extending across the end of the building, was placed a large banner bearing the words: "Knox College for Lincoln."
17 Aug 1883, The Daily Cairo Bulletin
Chicago, August 16. - The sensation of the hour in social and legal circles is the publication in the Hearld of the fact that Pleasant Henderson, a wealthy farmer of Knox county, Ill., has begun suit for absolute divorce from his wife Josephine, in which Hon. Alfred M. Craig, Justice of the Supreme Court of Illinois, and one of the most eminent jurists of the West, is respondent. The papers filed in teh case reveal a scandalous condition of affairs, the seventeen-year-old son of the Hendersons, making affidavit that he found his mother and Craig in illegal relations, and that he procured a pistol with the intention of shooting the judge dead, but that his mother disarmed him while Craig skipped out. It is alleged that several law firms declined to accept the husband's retainer, because Craig is so high in position and so powerful as to be able to ruin any practicing attorney who might incur his antagonism. It is now in the hands of F. S. Murphy, the leading lawyer of Galesburg. Henderson demands an immediate trial, and says if there are any attempts at filibustering he will have to resort to wild Western methods as soon as Craig returns from western Dakota, whither he has made a sudden and unexpected trip. Mrs. Henderson has the reputation of being the most handsome and magnificently formed woman in Knox county.
12 Nov 1912, The Day Book, Chicago
Galesburg, Ill. - John Junk, 85, wealthy Knox county farmer, struck and killed by train.
01 Jun, The Press
Some two years ago James Knox, of Knoxville, Illinois, died, leaving by will $90,000 to be used in establishing an Industrial and Agricultural School in Knoxville; provided the citizens of Knox county should withing six months raise $50,000 for the same purpose. The citizens have not complied with the condition, hence by the terms of the will $40,000 reverts to Hamilton College, $40,000 to Yale and $10,000 to a female seminary in Knoxville. The attorneys for the former institutions of the Knox estate to pay over the amounts due to these institutions.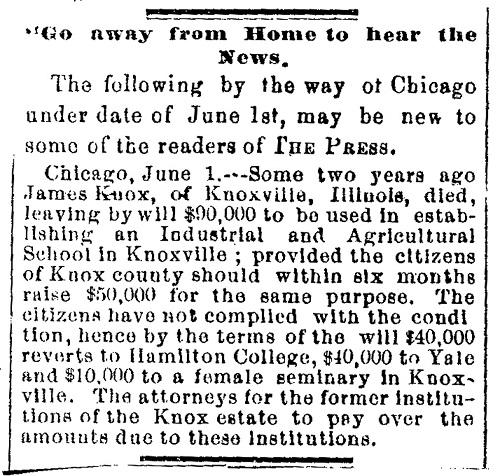 Contributed 21 Sep 2018 by Barbara McCoy barbmccoy@bellsouth.net